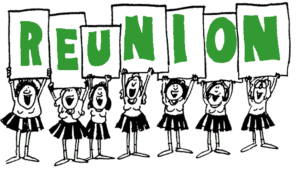 Welcome Gators! 50 Years…It doesn't seem that long ago, does it? Truth is, most of us attended elementary, junior high and high school together. Friends for 60 plus years! Then, after graduation we started new paths, families, careers, businesses and lives. Now it's time to "catch up" with your ole friends!
Let's hope that many of us will be able to participate in all the events planned for the reunion week-end (check out the Venues & Menus page). We will post new information regularly so please check back often. Click on the buttons on the top to take you to various pages of this website.
If you know anyone from our class, send them a link to this website or email us so that we can contact them. Thank you in advance for any little bit of help. We really appreciate it.
Reunion Committee (Website) – lperruso11@gmail.com
 Big thanks to Randy & Micki Keller for their help enhancing our website header graphics!
Your Reunion Committee is excited to get in touch with all our classmates. We have a fun get together planned for the weekend of October 6th-7th-8th and hope you can join us. Whether or not you are able to attend, please share your whereabouts with us so NCLB (No Classmate Left Behind) and we can all stay in contact with each other. Registration deadline is September 15.
We also want to keep all of our classmates who have passed away in our special thoughts during this time and we dedicate our reunion to them. If you know of anyone we have not listed on the Memorial page please let us know.